Executive Search & Headhunting in Germany
Please use the contact options on the right >>
HSH+S Headhunter Germany is an executive search firm for the industry. A management consultancy, specialized in national and international headhunting for executives, talents and performers. We only search for entrepreneurial thinking candidates, who are engaged, motivated on a long-term and who will help you sustain the success of your company.
Our focus are sales and engineering functions from C-level to VP-level. We have set ourselves the goal of finding extraordinary talents and personalities within a straight and tough process of approximately 8 weeks for a typical executive search headhunting project. Our special area of expertise we have with companies, who are leading manufacturers or innovators in engineering, software, automation, digitalization, research & development.
Since 1994, HSH+S Headhunters have been finding highly qualified executives and specialists either by direct approach or by using modern recruiting instruments. We are based in Frankenthal which is 30 minutes south of Frankfurt airport. "IN SEARCH FOR PROFESSIONALS" means – for our clients – to safely find the best candidate currently available for a specific task. Additionally, it means, we search professionals only. Managers and Executives who are modern leaders and specialists in their field and market.
Your Headhunter in Germany
HSH+S consultants have extensive international experience in recruiting perfectly fitting candidates. They usually speak several languages and have a broad intercultural competence. Their marketing experience enables them to motivate and attract excellent candidates. Each headhunter is responsible for a project from A to Z. Furthermore, the number of projects handled in parallel is limited to only a few search assignments to guarantee the quality of our work and the satisfaction and security of our clients.
Approx. 90% of all employment agencies usually work on a non-binding but success-based manner. They are forced to use databases with standardized profiles of all categories in order to keep costs to their minimum. HSH+S, on the other hand, has set itself the goal of finding the best available person according to your specific needs and requirements.
Executive Search Process
Determination of the client's strategy
Analysis of the potential market (optional)
Search strategy and planning
Determination of the ideal candidate profile
Media-support: advantageous and efficient solutions
Screening, placement and management of online instruments
Management of applications: Screening, Analysis, Evaluation, Recommendation
Pre-selection based on the ideal profile, phone interviews
Personal job interviews
Selection and Recommendation
Consulting, Mediation, Integration
Take advantage of our expertise when recruiting an executive, manager or specialist. HSH+S has a success rate of more than 95% since 2004 and is awarded as one of the best Recruitment Agencies in Germany with highest rates in customer satisfaction, recommendation and competence.
Headhunting in Germany
Headhunting is a special form of direct recruitment. A company uses HSH+S Headhunter Germany when it has a position to fill that is of high strategic importance, is difficult to fill or when the recruitment requires absolute confidentiality.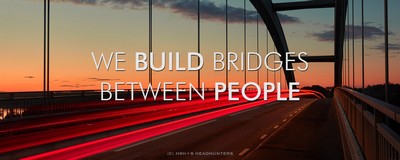 In the context of headhunting, we often hear about Executive Search. The term Executive Search does not refer to a particular direct approach method, but rather to the targeted persons, i.e. top management, c-level and vp-level but also supervisory.
The work of a professional headhunter in Germany requires not only research, strategy and analytical skills, there is also a need of tact. Absolute discretion is imperative. Furthermore, in Germany, the legal situation (DSGVO) is limited, the exchange of information allows only a minimum.
Risks while recruiting in Germany
"Management consultant, executive search, recruitment consultancy, temporary staffing, recruiting firm, employment agency, executive employment or recruitment agency" – the German labor market has an inflationary use of all these terms, because they are not subject to any legal convention.
Germany is among the most successful economic powers in the world, together with the USA, China and Japan. It is the most successful economic power in the European Union and despite a structural unemployment rate of about 4% there are many highly qualified people in this country. Over 70% of Germans speak one foreign language, over 30% even two.
However, it is not easy to find the right performer, especially if it has to be executive. The German labor market is characterized by a continuous shortage of high achivers in management or specialization, qualified engineers or talented sales people. Therefore, professional executive search, headhunting and recruitment services are needed to find good candidates and to motivate them for a change.
The machine building, automotive and aviation industries are the backbone of the German economy. Many companies are world leaders in their field, but also in the packaging, measurement, technology, chemical, electronic and pharmaceutical industries, especially in terms of innovation. In addition, the packaging industry, software, automation, logistics, biotechnology and digitalization have become important economic sectors. Therefore, leadership with special expertise is needed, just like engineers for optimization, production, research and development and talented highly qualified sales managers are needed more than ever.
HSH+S Headhunter Germany ist your honest headhunting partner, not only with our clients, but also with the candidate. We look forward to answering your questions!
For more information go to: www.headhunter-germany.com